Windows 10 will be released in 190 countries world-wide on July 29. You'll get a notification when your upgrade is available for download, but Microsoft is saying that some notifications may be weeks or months after the release. Fortunately, if you are in a hurry you can reserve your spot in line for early notification with just a few clicks. Here's how.
Find the Windows icon
  in the bottom right corner of your screen and click it. Click Reserve your free upgrade.
Enter your email if you want a notification.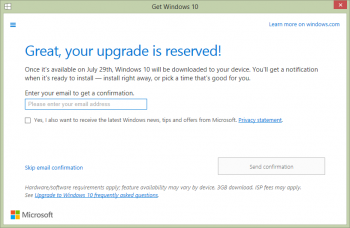 That's it!
The upgrade is free to all current valid Windows 7 and Windows 8 users if you update in the year following the release (before July 29, 2016.) After that, you'll have to pay for the privilege. The version of Windows 10 you'll get depends on what you have now according to this chart from Microsoft.


Windows 10 will merge what we liked the most about both Windows 7 and Windows 8, and add features that should make Windows more intuitive and productive across devices. Some of the major changes include:
Windows Hello – Personalizes your computer and allows biometric authentication (on supported devices) using fingerprints, facial recognition, or iris identification.
Cortana – Say hello to a personal assistant that works on your desktop, tablet, or phone. In fact, she has her own spot in the taskbar. You can use your keyboard or your system's microphone activate Cortana. Cortana is coming to iOS and Android devices too.

Edge – Say goodbye to Internet Explorer and hello to the faster streamlined browser that integrates Cortana, a reading view that eliminates the clutter, and lets you jot notes and pictures on webpages to save and share.
Windows Continuum – Windows will be the same no matter what device you are using it on — it will just look different to match the form factor (the size of the screen, whether or not a keyboard is attached, etc.)
New apps – Windows 10 will introduce a new look and feel to many apps including Mail, Calendar, Music, and more.
Millions of users have been running and testing pre-release versions of Windows 10 for months. This has provided Microsoft a ton of real-world use data including bugs and user suggestions. I like the look and feel of the new Windows and hope you will too.