You can't kid a kid.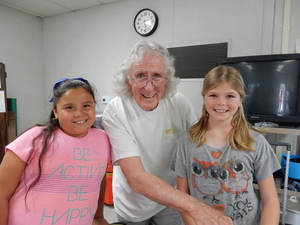 Four-year CATCH Healthy Habits volunteer Malcolm "Hoagy" Carmichael knows he can count on his young after-school friends to keep him on his toes and take good care of himself, while he encourages them to do the same.
"You can't tell these kids to do something, and then not do it yourself," says Hoagy, 75, who volunteers in the Santee School District, in San Diego County, California, where the program is supported by the Anthem Blue Cross Foundation. "I'm definitely more physically active and catch myself making adjustments in what I eat."
Hoagy is among 8,600 adults age 50+ who have volunteered or participated in wellness workshops based on CATCH Healthy Habits content since 2011. Volunteers work with children in after-school and summer programs across the country. In each program, the 25, one-hour sessions include at least 30 minutes of fun, active games, hands-on nutrition lessons and a healthy snack.
Snack preparation is Hoagy's forté.
"The kids are listening to the lessons and taking it in," he says. "Some are starting to request healthy snacks at home. It's happening slowly, but eventually they will take what they're learning into their future lives."
A seasoned volunteer for a number of organizations, Hoagy ranks intergenerational programs, especially OASIS Tutoring and CATCH Healthy Habits, as the most satisfying for him.
"Kids are so hungry for doing things with older people," he says. "Working with them makes me feel really connected to the community. Never in my wildest dreams did I think I would be doing something like this…but here I am."
Made possible with generous support of Anthem Foundation, Oasis CATCH Healthy Habits is the nation's largest evidence-based, intergenerational health program.
The Impact of CATCH Healthy Habits
23,500 children and 8,600 adults have been served.
The program has been offered in 21 cities across 17 states.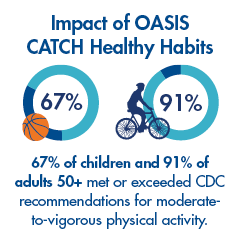 Download a summary of the program
Hoagy Carmichael is featured in the 2014 Oasis Annual Report.