Getting on stage is something that Elizabeth McClodden always wanted to try, and after participating in the Actors Studio workshop offered at Pacific Region Oasis in Los Angeles, she's ready for more.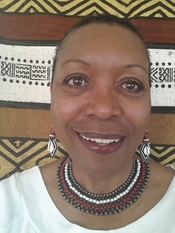 "At first, I was kind of intimidated, because I've never done anything like that before," she says. "But the instructor makes us feel really comfortable. She meets us where we are and works from there."
Led by renowned teacher and actress Ursaline Bryant, the workshop includes acting techniques and live performances at various LA venues. She says participants come to the project with acting experience that runs the gamut from complete stage fright to those who have performed commercially.
"I am fearless," Ursaline says, "but that's not the case for everyone. "It's my job to go in and unlock what's holding someone back. It's really fun to witness the changes that take place as someone gains more confidence."
In addition to doing a stage performance, participants are given the opportunity to see live shows. The workshop has given Elizabeth a new appreciation for what actors must do to perform well.
"I definitely have respect for their craft."
Before she retired, Elizabeth was a meter investigator for a utility company. She's taken a variety of classes with Oasis—jewelry-making, exercise, and storytelling. Now that she's added acting to the lineup, she's likely to become one of the Actors Studio regulars.
"I'll be back."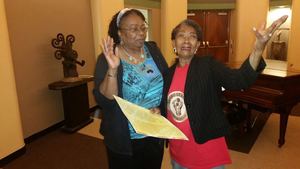 Gloria Vinson and Francine Lyles regularly participate in the Actors Studio workshop that Elizabeth just joined.
Elizabeth McClodden is featured in the 2014 Oasis Annual Report.