When we meet seniors embracing their retirement years with excitement, it is a reminder that for many of us, the best is yet to come.
This is encouraging news for a population that is rapidly growing. In 2000, there were nearly 35 million adults age 65 and older living in the U.S. By 2030, this population will increase by over 100 percent. More people than ever before will be looking for opportunities to redefine themselves, explore and connect.
Redefining retirement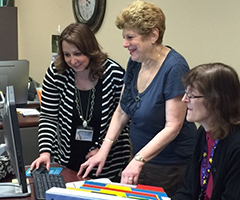 They'll want what Oasis volunteer Wendy Davenport has.  She traded in her career as a high school teacher for classrooms full of adults who are as curious to dive in to literature as she is. As part of a dynamic Leadership Team, she also helps keep things running smoothly at Upstate Oasis in Syracuse. It is not what she expected from retirement; it is even better.
For 34 years, Oasis has been the way thousands of people have discovered that aging can be less about limitations and more about possibilities. The key is preventing two of the most common barriers to productive aging: isolation and declining health. Oasis programs do just that.
Taking charge of their health
As they volunteer and join in lifelong learning, our participants become a part of a stimulating community that is as vital to their longevity as being in good physical health. Programs aimed at helping people take charge of their own health—managing chronic conditions, preventing falls and keeping themselves fit—are part of an approach we know works.
Emelda Harris of St. Louis knows it, too. By participating in a six-week program, "Better Choices, Better Health®-Diabetes," she has identified some effective ways to keep diabetes in check, while improving her overall health in the process.
We are dedicated to enriching lives through lifelong learning, wellness and volunteer opportunities. This comprehensive approach promotes social engagement and healthy aging. Through Oasis, many are pleasantly surprised to find out that their best days are not behind them, but happening now.
We want to thank everyone who has been a part of this wonderful journey – our donors, participants and volunteers. We are committed to helping even more adults make this life-changing discovery.
You can read about how more adults are redefining their retirement years in our 2015 Annual Report.