Oasis is a Pioneer in Healthy Aging
Founded in 1982, Oasis is a non-profit educational organization that is active in over 250 communities and reaches more than 50,000 individuals each year.
Our mission
To promote healthy aging through lifelong learning, active lifestyles and volunteer engagement.
Our vision
To see that adults age 50 and older across the country have opportunities to pursue vibrant, healthy, productive and meaningful lives.
We seek to positively impact your lives through partnerships to share knowledge, offer evidence- and research-based programs, conduct evaluations and adapt to meet the needs of diverse audiences.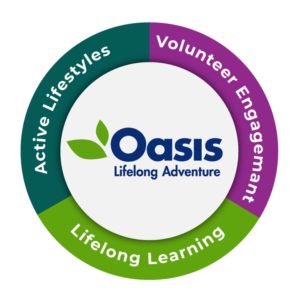 The Oasis Institute in St. Louis is the national headquarters. The Institute develops national programs and provides training and support for Oasis education centers and partners. Oasis education centers are located in community sites,
Our network of hundreds of partners includes health providers, corporations, senior centers, community organizations, libraries, universities and colleges, senior living organizations and more.
Oasis puts into practice the landmark MacArthur Foundation study of successful aging. Researchers Rowe and Kahn found that the key ingredients for a high quality of life are maintaining a low risk for disease, a high level of engagement with the community and high physical and cognitive function, and "it is the combination of all three that represents the concept of successful aging fully."
DEI Mission
Oasis is a people- and community-centered organization committed to equity and access for all older adults through its programming, partnerships and practices. We strive to create a safe and accepting environment free of oppression and bias.
Diversity, Equity and Inclusion Values:​
To eradicate ageism.
Including multiple voices in our decision-making. We recognize that our differences make us stronger, and we are committed to representing and reflecting the unique experiences, perspectives and viewpoints of people, partners, and the communities we serve.​
Exploring potential underlying, unquestioned assumptions that interfere with inclusiveness.​
Applying a diversity lens to Oasis programs and services, to ensure inclusive and truthful representation in all that we do.​
Expanding engagement and impact through intentional, community-centered partnerships.​
Honoring our stories, being present for each other, striving for empathy in every moment.​
Exploring and implementing gap-closing measures to address social determinants of health so that all people can experience healthy and successful aging.​
Oasis history traces the organization's first 25 years
Enriching Lives: The History of Oasis tells our story through the experiences of dozens of volunteers, staff members and participants.
Marylen Mann and a group of educators and volunteers established Oasis in 1982. It was a time when many programs for older adults were oriented around games and passive activities. Oasis pioneered stimulating educational, wellness and volunteer programs that helped older adults stay healthy and engaged within their communities.
The U. S. Administration on Aging funded a two year project to demonstrate the feasibility of a public-private partnership. Oasis established sites in four cities: St. Louis, Baltimore, Los Angeles and Cleveland, and The May Department Stores Company provided space for Oasis classes in its stores.
At the conclusion of the two year demonstration, The May Department Stores Company, now Macy's, Inc., committed to expand its support and began to build permanent sites in its stores for Oasis centers. The national Oasis headquarters partnered with local sponsors in each city to support the new sites. Recognizing the importance of good health to one's quality of life, Oasis joined forces with hospitals and health providers to offer wellness programs.
Over the years, Oasis grew into a nationally recognized organization, winning dozens of awards from organizations and agencies like AARP, the U.S. Administration on Aging and the U.S. Department of Health and Human Services.