The White House Conference on Aging on July 13, had quite an impact on Oasis participants across the country, including Louise Polcari, who volunteers and takes classes at the Washington Metro Oasis.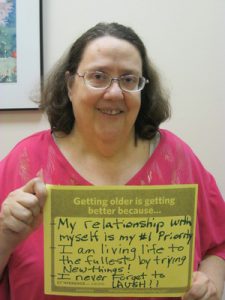 Louise started coming to Oasis with her mother just over a year ago because it looked like something that the two of them could do together. Met with so many positive people who wanted to continue to enrich their lives, both women stayed! In addition to taking as many as 20 Oasis classes per semester, Louise volunteers in the office and with the CATCH Healthy Habits program.
When it came time to host a WHCOA watch party, Louise was all in, helping organize the party and making it fun for those attending. At age 55, Louise doesn't consider herself an older adult, but finds that many of the issues addressed during the Conference, apply directly to her because she has MS, a permanent disability.
"When I heard about the Conference, I was so excited! I kept saying YES, YES, YES!" says Louise. "The policy briefs on elder law and healthy aging were really powerful. I watched the healthy aging one again after I saw it live. It's so important that people understand the importance of taking care of themselves. With eating better, exercising and keeping my mind active, I feel younger at 55 than I did at 40!"
If you didn't tune in to the Conference on the 13th, it's not too late to get informed. Click here and find out more.