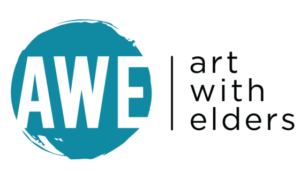 Art With Elders uses the power of art, creativity, and community to enrich the journey of aging. Our vision is a society in which every older adult engages in the creative arts as part of a healthy and vibrant aging process.
Founded in 1991, AWE provides 2,000 art classes each year for more than 400 seniors in long-term care communities throughout the San Francisco Bay Area. Nearly 60% of elders in long-term care do not have friends or family who visit. We now also offer online interactive classes for older adults living independently, as well as in a community. Through art classes and exhibitions, AWE is using the power of creativity to build community and offer seniors connectedness, new skills, expanded modes of expression and, most importantly, joy and meaning.
Taught by a team of dedicated professional Artist Instructors, elders gather in small groups for two hours each week to learn new skills and create art. Weekly classes are the core of what we do, elders are able to learn new skills, explore new ideas, and build positive relationships with their peers. AWE is distinctive in its program quality; these are not craft activities, but instead the focus is on skill-building — ranging from color and composition to perspective and background.
Additionally, we believe that showcasing the artistic achievements of elder artists helps to challenge the notion that aging is only about decline. Each year, artists submit their work for an annual, juried exhibit. After an opening reception for artists, family, friends, and caregivers, the exhibit travels to several locations around the Bay Area, where it is viewed by more than 200,000 people. Artists are also featured in online exhibits throughout the year.
Art With Elders Classes on Oasis Everywhere
Check out our line up of AWE classes and register today. While you're at it, invite a friend to do the same!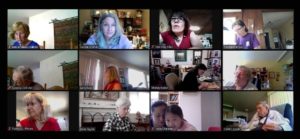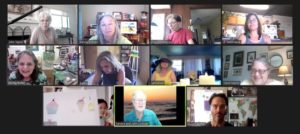 AWE Instructors on Oasis Everywhere