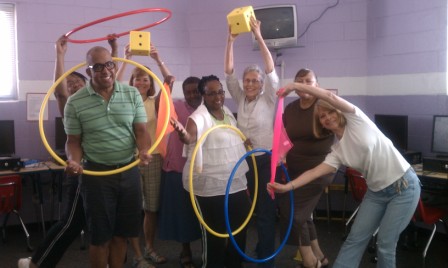 In case you don't know, the Oasis mission is this: Oasis is a pioneer of the three-pronged approach to successful aging – lifelong learning, active lifestyles and community involvement.
As a
volunteer coordinator
, I work closely with Oasis volunteers and realized recently that many of them are living, what my colleague refers to as the "Oasis lifestyle."
So what does this mean? The lifestyle has three simple components: learning new things, connecting with others and living a healthy, active life.
I was recently discussing volunteer recruitment ideas with a longtime Oasis member and volunteer. In our conversation, I learned that she meets weekly with a group of Oasis volunteers to go swimming. They also meet to exercise, talk and motivate one another.
This volunteer started as an
Oasis tutor
several years ago and took a couple of Oasis classes. When
CATCH Healthy Habits
was launched in 2011, she became a volunteer to teach children healthy habits for a lifetime. Through her Oasis volunteer work and classes, she has made friends along the way. She's the OASIS lifestyle in action.
There are many more examples of this throughout Oasis … I hear about members who met while volunteering and
now take Oasis classes together
. Or an
intergenerational volunteer
enjoying her Oasis role so much that she talked her sister into joining the fun … they're getting quality sister time together, and while doing so, are helping the children in their community.
In case you didn't notice, the Oasis lifestyle ties directly to the mission of Oasis. And there are benefits to this lifestyle … research shows that you can live a longer, healthier and more satisfying life by learning new things, staying active and giving back to your community.
Are you living the Oasis lifestyle? It's never too late to start.