National Nutrition Month is a good time to take stock of the food we buy and eat. And there is never a bad time to develop some new habits that can really make an impact on our nutrition, not to mention our budget.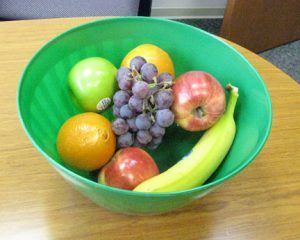 Here are some new habits that are pretty easy to implement and sure to improve the nutrition picture in your home:
Make a plan together as a family. Have each person list their favorite fruits, vegetables, whole grain foods and healthy snacks. Keep these items on your regular shopping list. If the healthy favorites are readily available at home, they'll likely get eaten!
Search for good deals. Watch for coupons and sales in newspaper inserts, grocery store flyers and online. Bulk foods are another good option, and think about comparing store brands to pricier name brands.  There is often the perception that eating healthy is expensive, but doing a little homework is a great way to save on foods you like.
Make one and done. Make more of your favorite healthy foods and freeze the leftovers for another time. Homemade meals cost less than eating out. And doing this will make dining out a special treat!
Stick to the list. Create a shopping list for all of the items you need and stick to it. This will prevent impulse purchases of tempting processed foods.
Buy in season. Buying fruits and vegetables in season is a good way to go. They taste better and are often less expensive. Some are affordable year-round, such as beans, carrots, apples and bananas.
This list is just one of the many suggestions for leading a healthier lifestyle featured in our Healthy Living Guides. There are two, one for families and one for adults. Both are free and can be downloaded by just clicking on this link. These guides are full of practical tips to make healthier living easy to understand and do. All information is based on scientific research and proven best practices, including information from CATCH Healthy Habits.
CATCH Healthy Habits is an evidence-based, intergenerational program designed to combat childhood obesity. Older adult volunteers work with children grades K-5, providing healthy snacks and leading in fun, active games.  Since 2011, more than 2,300 adults and 17,000 children are leading healthier lifestyles as a result of participating in the program.
CATCH Healthy Habits is made possible with funding from Anthem Foundation.