How to use Zoom controls when taking an Oasis online class
Watch this helpful video on how to use Zoom controls
Oasis Everywhere offers a wide variety of virtual online classes with the ability to interact with other participants and instructors, such as live question and answers. Zoom video is used to access your classes from almost anywhere and can be used on a computer, tablet or mobile device. When interacting on a Zoom Meeting, participants will need to use the Zoom controls located at the top and bottom of your screen. Watch the Oasis Connections video on how to use these controls featuring the work of Amy VanDeVelde and Ken Charvoz.
Zoom meeting controls include:
Turning your camera on and off
Managing your speakers and microphone
Making your Zoom screen larger (full screen) or smaller (exiting full screen).
How to see other participants video while on the Zoom video call
How to chat within Zoom
How to view Zoom video controls by hovering your mouse over the screen or tapping on the screen of your mobile device
Do you have another question about how to use Zoom? Comment below and one of our staff members will answer your question.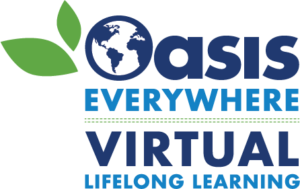 Want to stay socially active and intellectually engaged?
Take a look at these online technology classes available from Oasis Everywhere!