Wayne Chambers won't let a little cold weather get in the way of exercising his favorite way.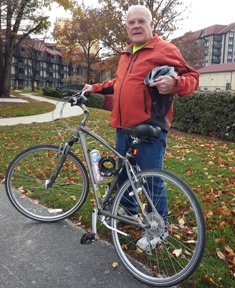 "I'll just bundle up," he says, pointing out he's proof positive that you really can't forget how to ride a bicycle after all. "Many years ago, I delivered telegraphs for Western Union using my JC Higgins single speed bike."
Wayne recently rediscovered his bike after his doctor suggested that he  start attending some fitness classes as a way to control his weight and stay active. The Oasis Healthy Habits for Adults program offered at Christian Hospital in St. Louis was just what he needed and eventually led him back to biking.
A jumpstart toward a healthy lifestyle
Healthy Habits for Adults provides guidance for older adults like Wayne who want to learn how they can make simple changes to improve their health through nutrition and physical activity.
Led by volunteers, the weekly, one-hour sessions include preparation of healthy snacks, as well as lessons about healthy food choices and low impact exercise. Some of the topics include:
recognizing foods that are good for you
tips for eating healthy on a budget
understanding food labels
how to reduce salt and sugar intake
simple exercises that older adults can do at their own pace
Participants also receive free Healthy Living Guide for Adults, a resource packed with practical tips to make healthier living easier.
Getting back on the bike
For Wayne, the classes also served as an introduction to Oasis and all of the programs available. Thumbing through the catalog, he found a biking group. Now he's a regular.
"Sometimes I am the oldest one in the group. The hills are getting tough, but I've got endurance and I'm trying to keep my strength. One thing I don't want to be is a grumpy old man. It's about how you want to be remembered."
Healthy Habits for Adults was developed in 2014 to complement Oasis CATCH Healthy Habits, an intergenerational obesity prevention program that started in 2011. Both programs have been made possible with support from Anthem Foundation. The Foundation has announced continued support for Healthy Habits for Adults in 2017, with an award over $400,000.
Classes are available in seven cities across the country. Find upcoming classes.