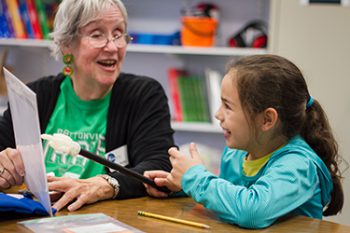 Martha Murphy wasn't so sure she was right for the job when she first considered becoming an Oasis tutor, but five years and eight third graders later, she knows she's right where she belongs.
"I think I'm an eight-year-old at heart," says Murphy, who has gotten pretty good at relating to third graders by identifying common ground first thing. "It's about bringing what we're passionate about to the table, and using that to relate to kids. My kids know that I love dogs, so I use that as a conversation starter."
Murphy is one 4,500 volunteers nationwide working with the Oasis Intergenerational Tutoring program, which pairs children in grades K-3 who need support with older adults who have been trained to use a proven approach to literacy that emphasizes reading, talking and writing. The program is one of six intergenerational programs selected to receive the prestigious 2017 Generations United Programs of Distinction.
"The Program of Distinction designation is the only U.S. 'seal of approval' for intergenerational programs," says Donna Butts, executive director of Generations United. "Achieving this recognition is a major accomplishment and says a program employs best practices and effectively engages the young and old while serving the surrounding community."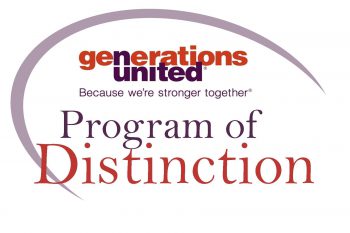 Programs of Distinction are selected based on evidence-based standards for quality programming, such as preparing participants, staff training, partner engagement and use of evaluation data.
Generations United launched the Program of Distinction designation in 2010 to recognize excellence while celebrating the rich diversity among intergenerational programs. Since then, 32 such programs have been selected. This is the second
Program of Distinction designation received by Oasis. Oasis CATCH Healthy Habits, an evidence-based intergenerational health program, was named a Program of Distinction in 2014.
Oasis Intergenerational Tutoring is the largest older adult tutoring program in the U.S., reaching more than 440,000 children since 1989. In 2016, Oasis tutors helped children in 673 schools in 74 school districts across the country. Murphy comes to Remington School, in the suburban St. Louis Pattonville District, twice a week, ready to do the important work of getting children excited about coming to school and feeling like they can be successful.
"Every kid has strength, and if you can help them find that, it's a good thing," she says, pointing out that the whole experience isn't so bad for the tutor, either. "Being an Oasis tutor is a pure, unadulterated joy of my life."
For more information about Oasis Intergenerational Tutoring, visit oasisnet.org/tutoring.