Thirty years in advertising armed retiree Martha Murphy with a skill that comes in pretty handy in her role as an Oasis tutor: Know your customer.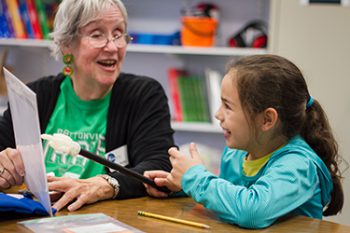 "I think I'm an eight-year-old at heart," says Murphy, who has gotten pretty good at relating to third graders by identifying common ground first thing. "It's about bringing what we're passionate about to the table, and using that to relate to kids. My kids know that I love dogs, so I use that as a conversation starter."
The Oasis Intergenerational Tutoring program pairs children in grades K-3 who need support with older adults who have been trained to use a proven approach to literacy that emphasizes reading, talking and writing.
Murphy wasn't sure she was right for the job in the beginning, but four years and seven third graders later, she knows she is right where she belongs. She comes to Remington School, in the suburban St. Louis Pattonville District, twice a week, ready to do the important work of getting children excited about coming to school and feeling like they can be successful.
"Every kid has strength, and if you can help them find that, it's a good thing," she says, pointing out that the whole experience isn't so bad for the tutor, either. "Being an Oasis tutor is a pure, unadulterated joy of my life."
An integral resource for schools
Dr. Mike Fulton, who serves as superintendent for the Pattonville School District, points out how integral Oasis tutors have become as a resource in the schools.
"Teachers can actually choose to participate with Oasis tutors. In our district, most do, and say they love  getting the help," says Fulton. "They like that their students are getting some one-on-one help that they might not be getting anywhere else in their lives."
As he makes rounds through the elementary schools,  the Oasis presence is evident, he observes.
"Each tutor knows their child, and that's really neat to see," he says.
Murphy is one of nearly 5,000 Oasis tutors working with children grades K-3 in 20 U.S. cities.
Finding more tutors, impacting more children – Generation to Generation

Oasis has the opportunity to increase the number of tutors and children served substantially by participating as a founding partner with Generation to Generation, a new national campaign that aims to mobilize one million adults age 50+ over the next five years to support young people.
"Children today need our support more than ever," says Jeanne Foster, Oasis National Tutoring Manager. "Older adults have abundant skills and life experience, as well as a desire to help.  Oasis has the largest older adult tutoring program in the U.S. and we look forward to sharing our experience bringing the generations together. And in the process, we hope to engage thousands more Oasis tutors to expand the number of children we serve."
Oasis is one of more than 40 partner organizations joining forces to make the Generation to Generation goal a reality. The campaign was launched November 17 by Encore.org, a national nonprofit that advocates "second acts for the greater good."
"This campaign is a new take on an enduring idea – that societies thrive most fully when older and younger people come together, not just in families but in the greater community," Encore.org founder and CEO Marc Freedman said. "Shining examples of this impulse are emerging all over the country – oftentimes, hidden in plain sight. The campaign will help illuminate these bright spots and provide ways for many more to get involved."
Generation to Generation and Oasis Tutoring were featured in a recent story on PBS's NextAvenue.
How you can help
To learn more about becoming an Oasis tutor, visit Oasisnet.org/Tutoring.
Find out about other volunteer opportunities through GenerationToGeneration.org.