Things happen for a reason, and after her first year as an Oasis tutor, Flora Bryant is certain that she and one little boy, a third grader named Marquis, were meant to cross paths.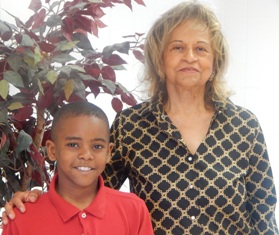 "He appreciated my promise and commitment to him,"
she says, reflecting on the extraordinary progress that he was able to make in just one semester. Marquis showed the highest growth on his SRI (Scholastic Reading Inventory) test in his class. His score improved by 421 points. Typical growth is 75 to 100 points.  Bryant is naturally pleased with the strides her student has made, but she is not surprised.
Establishing a positive, trusting relationship
"Stepping across the threshold of Elder W. Diggs School 42, I felt a joyful challenge with memories flashed before my eyes," says Bryant. "Good days surfaced in my mind, so I knew good days would be on the way. I attended first grade here. I knew that working with my student would be a great and welcome challenge."
Bryant came into the Oasis Intergenerational Tutoring program in Indianapolis expecting to make an impact. As a social worker, she directed the Employee Assistance Program for a public school system, and received high student accolades as a university professor for 24 years.
After receiving the required Oasis Intergenerational Tutor training, she was drawn to her elementary school to tutor. She knew that the tutoring program exemplified excellent learning. When she learned about Marquis and the support he needed with reading, she knew he was the one.
"I said to myself, 'I'd like to be a part of the school world for this young man.' The first thing we needed to do was get to know one another," she says.
The key, Bryant points out, was the relationship.
"The first thing I did was to get to know him by completing the Oasis Intergenerational book, All About Me. Using the book helped me to find his strengths and skills. He was competitive and a quick thinker. After that first couple of weeks, as I figured out what motivated him, his enthusiasm grew. He saw that I was connecting to him on things," says Bryant.
She adds, "Each time I opened his classroom door, I scanned the seats, looking for him. Once our eyes locked, Marquis got ready. Our relationship was extended for another day. Marquis has good people skills. He is active and bright and comfortable saying 'I don't know.' It's one of the things I like about him. One day, I asked him, 'Why do you like working with me?' He responded, 'Because I learn things about words and what they mean.' Neither of us missed a tutoring session."
An unexpected and pleasant gift
As it turns out, being a tutor has changed this seasoned educator as well.
"It's changed my life. I'm more positive about my purpose in the world. I think about him day and night, and pray for his success. He's really given me a gift, too; the gift of a friendship. As long as he lives, he will remember my name. Marquis is now in the fourth grade!"
As for continuing as a tutor and introducing others to the opportunity?
"I'm in," she says. "I'm in."
Learn more about the Oasis Intergenerational Tutoring program and how to become a tutor today!
Oasis Tutoring in the Indianapolis region is made possible in part through the support of the Dollar General Literacy Foundation, the Nina Mason Pulliam Charitable Trust and Impact 100 Greater Indianapolis.