Josie Tijerina has a sweet tooth.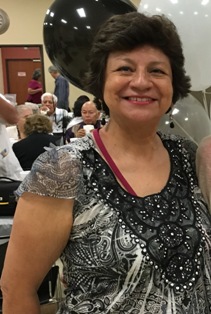 Having been diagnosed with Type 2 diabetes in 2012, Josie must keep her diet in check to keep her blood sugars in a healthy range. It's tricky, but she has learned some good strategies by participating in a program called Better Choices, Better Health®—Diabetes, at the Casa Helotes Senior Center in San Antonio, Texas.
The six-week workshop developed at Stanford University and offered by Oasis has proven very valuable to Josie.
"I wanted to see if there was more I could learn about diabetes and about how to manage my lifestyle to stay healthy," she says. "Taking a class like this was a good reminder. I recommend that anyone with diabetes go every once in awhile—they need to learn what's going on with their bodies."
Josie says her doctor was pleased with her progress, saying that she was headed in the right direction. She's learned about how exercise impacts blood sugar, how to better read food labels and something pleasantly surprising.
"There isn't any food that you cannot have. If you want to have that dessert, you can have it; you just have to adjust what's on the rest of your plate."
Adults improve their health through community workshops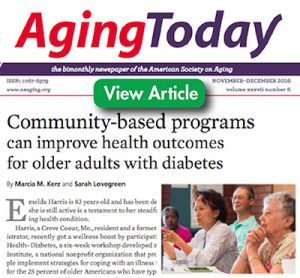 Josie is one of thousands seeing significant benefits by participating in Better Choices, Better Health®—Diabetes. These workshops on diabetes self-management strategies are highlighted in this article in the November issue of Aging Today.
A research study with more than 1,200 participants showed that people made significant improvements in A1c blood sugar, depression, exercise frequency and taking medication. The workshops provide 15 hours of coaching and peer support over six weeks, and help people create their own action plans for managing their health.
Oasis offers the workshops in comfortable neighborhood locations, such as public libraries and communities, increasing the likelihood that participants will attend. The community-based approach is unique and effective.
Supporting the Triple Aim
Enlisting more community-based organizations to offer the program has potential to support the "Triple Aim" –  improving patient care experience, reducing costs and improving the health of older adults.
Dr. John P. Lynch, chief medical officer of Barnes-Jewish Hospital, has long been enthusiastic about community- based wellness programs as a complement to those offered at hospitals and other healthcare facilities. The challenge is to ensure programs follow strict evidence-based protocols.
"I am seeing well-run interventions," Lynch said. "With diabetes outcomes it can take years to see the full effects, but it looks like they are on track.
For more information about diabetes and other health programs offered through Oasis, see our class listings.