It is a great pleasure to tell you all about the upcoming Silver Screen Series. Jointly presented by the Creve Coeur Arts Committee and Maturity and Its Muse, the Series is in its third season.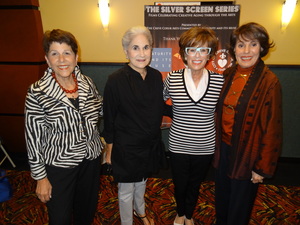 Thanks to the continued generosity of AMC Creve Coeur 12 and the City of Creve Coeur, we are happy to be able to offer the Series FREE to ALL who want to attend. This year, our post-screening discussions will be led by well-known academics, artists and critics, all of whom volunteer their time to enhance the viewing experience.
The Series will be held on Thursdays this year and all films begin at 1 p.m. at the AMC Creve Coeur 12, 10465 Olive Blvd (at Old Olive). We know you will want to join in!
September 3: Away From Her, starring Julie Christie
Based on the short story, "The Bear Came Over the Mountain," Away from Her tells the story of a couple whose marriage of over 40 years is tested when the wife begins to suffer from Alzheimer's disease and moves into a nursing home. Discussion will be led by  volunteers from the Alzheimer's Association will share their personal experiences as spousal caregivers.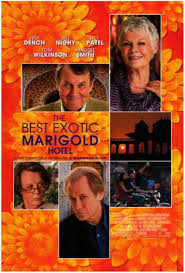 September 10: The Best Exotic Marigold Hotel, starring Judi Dench, Maggie Smith, Tom Wilkinson and Dev Patel
Lured by the promise of a life of leisure in lush surroundings, seven British retirees decide to outsource their retirement to exotic India. Though their new home is not what they expected, they find that life can begin again when they let go of their pasts. Discussion will be led by Colin Campbell, PhD and Sun Smith-Foret, MSW, MFA. Campbell is Professor of English and American Literature Emeritus from Principia College. He has taught theatre and Shakespeare and has developed his interest in film as an art form. Currently he lectures around the country on the subject of Mary Baker Eddy's book, Science and Health With Key to the Scriptures.
Smith-Foret is practicing psychotherapist and an artist, represented by the Duane Reed Gallery. Her Silver Screen Quilts are works of cloth, paint and mixed media referencing film and cinema. Her work has been featured in solo and group exhibitions, juried art shows in galleries throughout Missouri since 1978. She lectures and provides workshops on art and cinema throughout the region.
September 17: Something's Gotta Give, starring Jack Nicholson and Diane Keaton
A 63-year-old perennial playboy is having the time of his life wining and dining women half his age. But after a heart attack leaves him in the care of his much younger girlfriend's mother, he finds himself falling for the first time for someone who may be out of his predetermined league. Discussion led by longtime journalists Ellen Futterman and Eric Mink. Futterman, former reporter, columnist, critic and Arts and Entertainment Editor at the St. Louis Post-Dispatch, now serves as Editor of the St. Louis Jewish Light and as Communications Content Editor for the Arts and Education Council. Mink, a freelance writer and editor, teaches film studies at Webster University in St. Louis. He is the former Op-ed Editor and columnist at the St. Louis Post-Dispatch and a former television critic for the Post-Dispatch and the New York Daily News. Eric's column appears in the St. Louis Jewish Light on the first Wednesday of every month.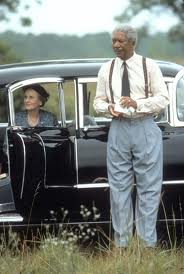 September 24: Driving Miss Daisy, starring Morgan Freeman, Jessica Tandy and Dan Aykroyd
Based on the Pulitzer Prize-winning play by Alfred Uhry, Driving Miss Daisy chronicles the 25-year relationship between a wealthy, strong-willed Southern matron and her equally resolute African-American driver. This fun, true- to-life film is about one of the most challenging transitions that comes with advancing age, retirement from driving. Discussion leaders Dr. Tom Meuser, PhD and Dr. James Stowe, PhD will discuss how Miss Daisy's experiences can inform those facing the prospect of driving retirement today. The presentation will include helpful advice, personal rules of thumb, and discussion of resources to make this important transition easier. Meuser is Associate Professor of Social Work & Gerontology, Director, Gerontology Program, Coordinator, UMSL Life Review Project, University of Missouri – St. Louis. Stowe is Clinical Research Specialist Washington University School of Medicine St. Louis, Missouri, where he leads translational intervention trials of the neuroscience driving simulation laboratory. The purpose of the lab is to prolong safe driving life expectancy. He co-chairs the Missouri Coalition for Roadway Safety's Subcommittee on Elder Mobility and Safety — a statewide group focused on the older driver portion of Missouri's Strategic Highway Safety Plan.
When I share the lineup, I hear, "This is gonna be the best year yet" and "Wow! Stars on the screen and stars for our conversations. Count us in!"
Let us count you in, too. Remember, if it's September, then it has to be the Silver Screen Series: Films celebrating creative aging through the arts. Please mark your calendars. I look forward to welcoming you!
For more information, contact Lynn Hamilton, Executive Director, Maturity and Its Muse at 314-420-1444 or lynn@maturityanditsmuse.org.