We have all heard the phrase from the commercials,
"I've fallen, and I can't get up!"
Sometimes we might think that will never happen to us and other times, it might just scare us so much that we actually do fall. Did you know that one of the risk factors for falling is the fear of falling? Is it the self-fulfilling prophecy or knowledge that your balance is impaired and you feel weaker than usual that makes you fearful? Who knows? What I do know is that many falls can be prevented with simple modifications in your home, and exercise, which is essential.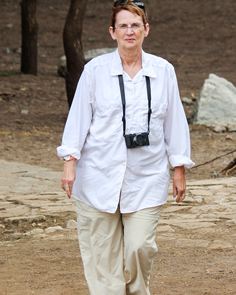 An Oasis Better Balance class helped Lin Dempsey enjoy the trip of a lifetime–an African safari.
"I had just retired from a very sedentary desk job, and I knew I wasn't physically fit," she says. "Friends who had been on similar trips told me that being able to get in and out of the very large safari trucks was important.  I wasn't sure I could do it, so I decided to take the Better Balance class to improve my strength.  I survived the trip without falling and had  no muscle soreness from all of the activity of traveling."
Lin found the class so beneficial that a year later, she is still taking the class. Her classmates agreed that exercise has been important for strengthening their muscles and maintaining independence. Most said they find it easier to do their everyday activities such as getting dressed, going up and down stairs and getting up from a chair.  They told me about other positive results as well:
I can lift and pour a gallon of water into my coffee pot with one hand.
I can wrestle a 40-lb bag of mulch out of the trunk of my car.
I am a better driver because I can look back over my shoulder further and more easily.
I physically feel better. 
I walk with more confidence and stability.
It is easier to pick up things up from the floor.
Getting up from the floor is easier for me.
These are just a few great reasons to take steps to improve your balance and flexibility. If you'd like to get started at home, you can get free resources from Go4Life, an exercise and physical activity campaign from the National Institute on Aging at NIH.
Many people prefer to be part of a group. If you haven't attended an Oasis Better Balance, Matter of Balance, or Free from Falls class or had a balance screening at one of our events, I highly encourage you to do so.