Yes, driving as a Centenarian might be in your future!
The U.S. has the largest Centenarian population, with 53,364 recorded in the 2010 census, and that number is expected to grow. If your goals are staying independent and connected as you age, the place to start is preparing a phased Driving Retirement.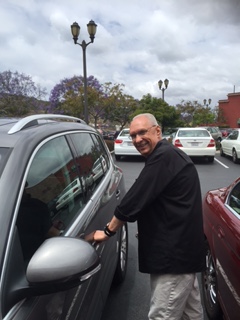 Borrowing from retirement planning, Driving Retirement is defined as a strategy to build a customized plan for senior drivers to maintain their freedom by improving their driving skills and identifying transportation options. Building a customized plan requires attention to your health, mapping our your activities and identifying alternative transportation solutions should the need arise.
Driver Health: First, take inventory of your driving readiness during your healthcare visits.
Maintain your ability to stay safe behind the wheel with a yearly visit to your vision care provider. Changes in eye health can often go undetected. A yearly visit will enable you to identify any changes to your eyesight and seek early treatment.
Visit your pharmacist for a medication review. Their expertise can identify medications or interactions that can impair your driving.
Enroll in strength and balance classes to maintain your ability to easily maneuver in and out of a car. Join a gentle stretch or yoga class to maintain the flexibility needed when turning your head to change lanes in traffic or reverse from a parking space.
Know where you're going!
Using a calendar, smartphone or datebook take 10 minutes to make a list of your daily activities. This list includes: business appointments, classes, community meetings, social organizations, shopping, volunteering, worship, and time with friends.
 After making the list, spend another 10 minutes adding brief notes next to each activity on who you travel with and how you get there.
Begin asking and researching what transportation resources are available through community and senior centers, perhaps creating an informal carpools with others who attend classes or places of worship, enlist help from family members, friends, and neighbors. If you're smartphone savvy Lyft and Uber or similar services can extend your network.
Researchers say seniors drivers are safer compared to other age groups, since they reduce risk of injury by wearing safety belts, obeying speed limits, and not drinking and driving. Be a safer senior driver now and in the future by beginning a plan now. Your goals of staying independent and connected, depend on driving safely longer and knowing your transportation options.

Judi Bonilla is an aging expert, gerontologist, and creator of Brain Fit Now: Boost Your Brain Health Today and We Get Around: Freedom, Fun, and Alternatives To Driving and Come Back Cupid: Love & Sex Tips For Dating Online After 65 and Encorepreneur 101 The Community For Entrepreneurs 50+.