For a child thinking about becoming a veterinarian, learning all he can about animals counts for something.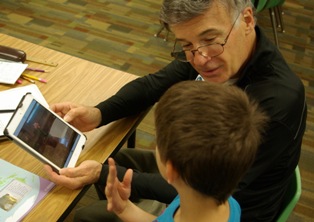 With help from his Oasis tutor and an iPad, a third grader named Shaun had the opportunity to improve his reading skills while exploring things that interested him the most: animals and math. His tutor, Al Peterfeso is happy to have been a part of Shaun's experience, and has been assigned to work with him again this year at Bayless Elementary School in St. Louis.
"Shaun is a fun person," says Peterfeso, who heard about Oasis Intergenerational Tutoring at his church. "I think these kids are happy to be spending time with adults in a one-on-one way. For me, being a tutor is a little bit like having grandchildren."
Peterfeso and many of his fellow tutors are using iPads as a tool for their tutoring sessions, a component of the program made possible with a $50,000 grant from The Monsanto Fund. Oasis is using the grant funds to formalize training for tutors on using the iPads. The training has proven helpful, even though Peterfeso is familiar with using his own iPad Mini.
"As the need to use technology becomes more critical for students, enabling tutors to add the technology dimension to their tutoring sessions by introducing the use of iPads is very important," says Jeanne Foster, Oasis National Tutoring Manager.
In addition to funding for iPad training, The Monsanto Fund has provided ongoing support for the development of STEM (science, technology, engineering, math) session plans to be used by Oasis tutors in 24 St. Louis area school districts. The session plans, with suggestions for websites and apps the tutors can access on their iPads, have been enthusiastically received by teachers, tutors and children. Subjects include: geometry, symmetry, graphing, gravity, electricity, force and motion, germs, frogs, pumpkins, magnets, measurement, and estimating.
"Both the children and the tutors love the new session plan packets that contain a non-fiction book that is paired with a storybook and include session plans for each," says Foster. "For example, after reading the fiction book, Pumpkin Jack, the children learn about growing pumpkins in From Seed to Pumpkin. The children are eager for the information and the tutors are pleased to have these high quality materials to share with them."
About The Monsanto Fund
The Monsanto Fund, the philanthropic arm of the Monsanto Company, is a nonprofit organization dedicated to strengthening the farm communities where farmers and Monsanto Company employees live and work. Visit the Monsanto Fund at http://www.fund.bayer.us/.