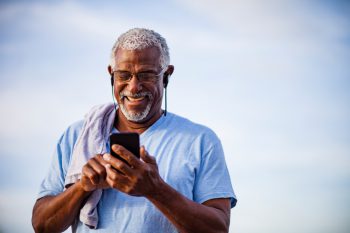 Audible (an Amazon company), has the world's largest selection of audiobook titles as well as original stories that are produced by Audible. Audible also features The Great Courses, a series of audio courses in science, math, art and much more.
Audible is a membership-based audiobook service. For a monthly fee, you get one credit (or more depending on your membership level) good for a free audiobook, even if the audiobook is more expensive than the membership. (Unused credits roll over into the next month.) Your membership allows you to purchase additional titles at a 30% discount from the price listed on Amazon.com. Once you have purchased an audiobook or added a free audiobook to your Audible library, it's yours to keep, even if you discontinue your membership. (You can purchase an audiobook without a membership at full price but Audible simply integrates with Amazon.com to fulfill the order.)
Audible Channels
If you haven't tried podcasts, Audible Channels is a great place to start. You can download episodes from different channels including comedy, drama, history, and other topics to enjoy offline and on the go. Amazon Prime members can also enjoy Audible Channels without an Audible membership.
Listening is easy on nearly any device
You can listen on your Apple, Android, or Windows smartphone or tablet using the Audible app, or use the Windows 10 app on a PC. You can also use iTunes on a Mac or Windows 7 PC. You can also listen on any Bluetooth-enabled Kindle e-reader, an Amazon Fire Tablet, Alexa-enabled devices like the Amazon Echo, or Amazon Fire TV.
Switch between reading and listening with Whispersync
If you purchase a Kindle e-book and add the audio companion to your purchase, you can switch back and forth between reading and listening. Your last reading location is synced no matter what you use!
When reading or listening is not enough, immerse yourself
If you own both the Kindle and audio version of certain titles, you can listen and read at the same time. The text will even be highlighted in sync to the narration. This feature works on most Kindle Fire tablets and the Audible app for iOS and Android.
Narrators you love to listen to
Audiobook narration has come a long way. As a Malcolm Gladwell fan, I love the fact that he narrates his own books. But listening to a well-known actor, or one of the many professional voice actors is always a pleasure. And some titles, like the popular West Cork original series, are narrated by a cast of voice actors that bring Ireland right to you. Audible narrators have their own Narrator Hall of Fame!
The long and short of it
You'll find short titles, some only minutes long, and some very long titles, like Sherlock Holmes by Stephen Fry, which comes in just under 63 hours. The Audible app features a playback adjustment that can speed up, or even slow down, the narration to suit your needs.
Don't like? Don't worry!
Pick a title you simply don't like? Audible allows active members to return or exchange an unwanted book within 365 days.
Sharing is caring
You can share your Audible content with two other adults in your Amazon Household. To create your household, go to your account on amazon.com, go to Your Content and Devices page, then Settings, then click Invite an Adult in the Households and Family Library section.
A free no-risk trial
You can try Audible for free for 30 days. You can even keep any audiobook you purchase with your free credit and cancel at any time. Go to audible.com and click the Try Audible Free button. Or, go to amazon.com, sign into or create an Amazon account, find an audiobook you want and select Free With 30-day Trial Membership.
Epilogue
Audible shines with its selection and versatility. With the power of Amazon behind it, Audible offers lots of ways to enjoy audiobooks on the road, at the gym, in the garden, or any time you want to enjoy a great read being read to you.
If you are a Kindle fan, look for your Audible books in the same library with your other Kindle purchases. You can also access the Audible Store from your Kindle.