Donors today want to know that their contributions matter. As we move into the holiday giving season, the new Social Impact 100 index (
si100.org
) offers donors a way to identify organizations that deliver results.
The S&I 100 is the first-ever, broad index of U.S. nonprofits with proof of results and a high potential to reach more people. The index was launched by the
Growth Philanthropy Network
in partnership with Duke University. As one of those 100 organizations, we at Oasis were glad to see the focus on evidence-based programs because we believe so strongly that such programs represent the best use of philanthropic resources.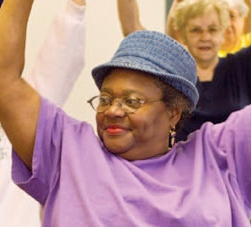 Mary Maufas
is saving lives as a volunteer leader for health classes that produce strong outcomes.
What does social impact look like? Mary Maufas sees the impact of her efforts with hundreds of people who have attended the health classes she teaches as an Oasis volunteer lay leader. In the last three years she has taught nearly 40 evidence- based classes in St. Louis community sites to help people build the skills to increase their physical activity, prevent falls and manage chronic conditions.
Chronic conditions account for 75 percent of U.S. spending on health care, yet only one percent of health care dollars is spent on prevention programs to improve health. Dedicated volunteers like Mary are helping to pick up the slack through hundreds of classes across the country.
Well-researched evaluations like the Senior Fitness Test show strong outcomes for participants in these classes. For example, students in Oasis' ExerStart class have increased their lower body strength by 28 percent, improved their endurance by 33 percent, improved mobility by 18 percent and increased lower body flexibility by 16 percent. These results have contributed to increase participants' satisfaction with their fitness, stamina, energy level and ability to do what they want to do.
To bring programs like this to as many people as possible, Oasis has leveraged the talents of volunteers like Mary – people with the time, energy and desire to serve their communities. Mary says that teaching these classes is "the greatest thing that's hap­pened to me since the birth of my children. We've been able to open doors for so many people and help them learn how to improve their health and have fun. I want to help people, and Oasis gives me the chance to do that every day."
Volunteers are a key element of Oasis' work to address other pressing social problems, such as literacy, childhood obesity, and closing the technology skills gap for older adults and displaced workers. Research shows that through their service, volunteers are also improving their own health, connection to the community and quality of life.
Oasis has also used partnerships to expand its impact at minimal cost. Through connections with hundreds of community partners such as senior centers, youth agencies, libraries, school districts, faith-based organizations, and parks and recreation programs, Oasis is able to replicate successful programs for a broad audience efficiently.
But Oasis could have more impact with more resources, and that's part of why we're thrilled to have been included in the S&I 100. This is a powerful validation of our work by third party evaluators. And hopefully, the index will help us and potential donors find one another so we will have more opportunities to help more people.