Looking for gifts for your tech loving friends and family?
The holidays are here and with them come an engaging line up of new tech gifts for the technology enthusiast in your life. Whether you're shopping on a budget or looking to go all out, you'll find something just right for family and friends. What's more, we're looking past the latest iPhones and Xboxes to bring you what's creative in technology today. Take a look at our suggestions for an affordable gift that your tech savvy friend will adore or for the latest in revolutionary new technology to excite that special someone in your life.
Budget lite: $30 or less
Enjoying the holidays on a budget? Not to worry. There are plenty of innovative and handy tech gadgets that your friends and family didn't even know they needed.
Tile trackers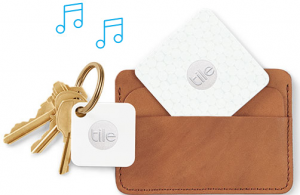 For the friend who is always losing things, try the Tile Slim or Tile Mate Tracker. The Tile Mate makes an excellent keychain fob and can easily be attached to backpacks, luggage, and more. The Tile Slim is larger but thinner, perfect for slipping into a wallet or purse. Tiles work with both Apple and Android smartphones. Use the Tile Mate app to ring your tile or view its location on a map. You can use your Tile to ring your lost smartphone, even when on silent! Bundles are on sale for the holidays!
Nomad Key for smartphones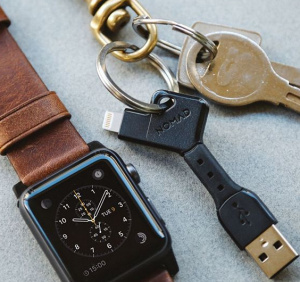 About the size of a key, this handy and compact charging device is perfect for the person on the go. Available for both Apple Lightning and Android Micro USB devices, the Nomad lets you charge with any available USB outlet. Under $20, this is a smart gift for a busy friend.
Plush Texting Glove
Anyone who's tried texting in twenty-degree weather appreciates the frustration of having to take off their gloves and let their fingers freeze to send a simple message. Thankfully, a variety of companies understand this problem and have developed texting gloves that don't risk exposing your poor fingers to the chill holiday air. Available in nearly endless styles for both men and women starting at about $12.
Zoom Cellphone Camera Lens

Smartphone cameras are getting better and better but few have a genuine zoom. Fortunately, you don't need to get your shutterbug friend the new iPhone 7 Plus in order for them to enjoy a working multi-lens zoom on their smartphone camera. While there are a variety of zoom camera lenses for smartphones on the market, the 8x-12x Zoom Cellphone Camera Lens offered by Qable Powerz goes for under $20 on Amazon and includes manual focus and a clip for easy attachment.
Medium Budget: $30-$100
If you're feeling more expansive but not looking to break the bank, the following gifts will excite your friends without leaving you too light in the wallet.
Skullcandy Ink'd Wireless Earbuds with Bluetooth

Truthfully, there are a wide variety of wireless earbuds on the market. However, Skullcandy offers a hard to beat bargain with colorful designs, Bluetooth, and a built in microphone starting at around $40. This lightweight earbud also sports a battery that lasts up to eight hours, making it perfect for active and outdoorsy friends. Plus, Bluetooth works with any smartphone or tablet, so matching connectors is a thing of the past!
TP-Link Smart Light Bulb

With the advent of smart home assistants, smart appliances have become increasingly more common. Now you can populate your home with smart light bulbs that take commands from controllers, smart assistants, phones, tablets, and more. While there are a wide variety of quality smart bulbs on the market, the TP-Link Smart Light Bulb is one of the few that can be used without a central hub, making it easier to use and more affordable. Buy your friend or family member this piece of the future for only $35.
Celluon Epic Wireless Projection Keyboard

Give your friends a universal portable keyboard with a twist. The Celluon Epic Wireless Projection Keyboard is as creative as it is compact, projecting the image of a keyboard across any flat surface. This working keyboard is compatible with any device. Costs vary but it is available online upwards of $60.
3D Printing Pen

If you have artistically inclined friends, they'll love this take on the 3D printer. 3D printing pens use thermoplastic that hardens within seconds of being ejected from the pen casing. Most pens come with refills and a wide variety of colors. 3D printing pens can be found as low as $10, but if you want a quality tool for a determined sculptor, consider splurging on the pen available on Hammacher Schlemmer for $99.95.
Big Budget: $100 – $200
Anyone with money to spend who's not looking to get too crazy should check out the following gifts. Show your friends and family how much you care without digging into savings.
Google Home

There's new competition for Amazon's Echo and it's powered by Google. Google Home is a sleek in home assistant that will provide traffic and weather updates, keep you on top of your appointments, manage any appliances connected through Bluetooth, set timers, play music, and more. For only $129, you can help a friend level up their home with this revolutionary new technology.
Polaroid Zip Mobile Printer

Everything old is new and what's new these days are physical photos. However, instead of waiting for a week to get the film developed at your local pharmacy, your friends can have their favorite photos instantaneously. Just hook Polaroid's Zip Mobile Printer up to a smartphone, tablet, or other device and get printing. Although there are a variety of these printers on the market, including HP's highly reviewed Sprocket, Polaroid's Zip is one of the most compact, with a smooth and colorful design. Using ZINK paper, it has no ink stored and no need for ink cartridges. For only $125, you can give a friend or loved one the gift of good old fashioned memories.
Available in 4 colors on Amazon.
Wacom Bamboo smartpad

Next generation artists or diligent college students will fall in love with Wacom's Bamboo smartpad. Attach some standard paper to this handy pad and watch your drawings, doodles, or notes magically appear on your phone, tablet, and computer. The pad works with a special bamboo ballpoint pen and sends everything you write to your devices in real time where you can edit, search, and save them. The smartpad is available in several sizes with folios for smartphones and tablets starting at about $100. Bonus—the Bamboo Spark is on sale now for nearly 50% off!
Petzi Treat Cam

Treat the pet lover (and their best friend) to this adorable high tech pet treat dispenser. The Wi-Fi connected camera allows pet owners to see their furry friends and the dispenser lets them interact by dispensing tasty treats throughout the day. They can even talk through a speaker and tell Fido or Sparky what a good boy he is. Your pet loving friend with a smartphone will love you forever. Grab your Petzi Treat Cam for about $169.
Ringly Smart Jewelry

High tech is now fashionable with these stylish and well-crafted rings and bracelets. They connect to your smartphone for activity tracking and notifications. Available in 18k gold or gunmetal and moonstone, onyx, lapis lazuli or tourmalated quartz. Perfect for trendy friends who love all things technology and vogue, these rings are only $195.
Massive Budget: $200-$500
Want to splurge extra big on something special for someone special? These gifts are on the pricey end but well worth the extra cash.
Bose QC35 Noise Canceling Headphones

Whether you're buying for a music lover, gamer, or someone who just loves their privacy, the new Bose QC35 Noise Canceling Headphones are highly reviewed and largely considered the best in the business. They are wireless with a twenty-hour battery life and Bluetooth. Plus, their neat and comfortable design makes them as stylish as they are functional. For $350, you can give the gift of music, podcasts, and sweet sweet solitude. Grab the Bose QC35 now to arrive by Christmas.
GoPro Hero 5 Action Camera

Most outdoorsy tech lovers know not to go anywhere without their GoPro equipment. However, even your most dedicated thrill seeking friends might not have this new $399 action camera that shoots 4k video and photos with a simple click of the button. Although it's hardly the only action camera on the market, GoPro's Hero 5 is one of the most durable. Its simple one button design helps guard it against the weather, and its waterproof casing allows it to go up to thirty-three feet underwater.
Sony Playstation Virtual Reality Headset

Virtual reality headsets are among the hottest new items this year. But not all headsets are created equal. The cheapest headsets on the market will certainly fill your vision with whatever is playing on the smartphone you've attached to it, but you won't get the truly immersive virtual reality experience unless you shell out for something a bit more advanced. On the other hand, the most expensive VR headsets are just that: way too expensive. At $399, Sony's Playstation VR Headset is arguably the best combination of quality and value. Although it requires a PS4 to use, the PS4 is far less expensive than the gaming computers required to use the more advanced Oculus Rift. All of this makes Sony's VR headset one of the highest rated and most accessible in the business and an excellent introduction to the world of VR for any gaming, tech loving friend.
Behemoth Budget: $500 or more
If you are willing to spare no expense for the highest quality gifts for your friends and family, consider some of these top of the line tech toys.
MacBook Pro with touchbar and touch ID

This is not just another laptop. The MacBook Pro with Touch Bar and Touch ID sports the latest in security and design. Touch ID allows you to unlock the laptop using a fingerprint, making it one of the most secure machines on the market. The Touch Bar acts as a dynamic extension of the keyboard, displaying icons and other actions relevant to the active programs and making it easier to enjoy full screen mode. Of course, all this fancy new tech doesn't come cheap and the MacBook Pro is no exception, starting at $1,799. Configure yours at Apple.com.
Google Pixel

Google has come out with their own smartphone and Android users are excited. Google's Pixel has a sleek and user friendly design, not unlike an iPhone, but runs on the Android operating system. Google's AI (artificial intelligence) assistant is baked right in! Pixel comes highly reviewed and is widely considered to have the best smartphone camera available. For $649 (or twenty-four payments of $24.09) you can give the gift of the Google Pixel.
Sherpa 100 Solar Kit

The Sherpa 100 panel Solar Kit is an excellent companion for any avid camper or backpacker. Charge up the battery in your home or car or find a sunny spot to charge it on the go. In either case, you'll have a battery ready to go to charge your laptop, smartphone, camera, and more. If the going rate of $550 is too much for you and you're excited to give this portable clean energy device as a gift, consider the Sherpa 50 panel Solar Kit for $399.
Whoever you're looking to buy for, there's something out there to excite them, amaze them, and usher them into the future of technology.