After she retired from teaching, Thelma Willis took advice from a friend and checked out Oasis in St. Louis. That was in 2001. And a lot of wonderful life has taken place since then.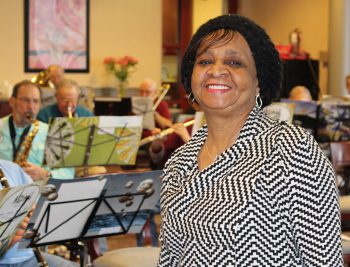 "I can certainly say that my life has gotten better since becoming a member of Oasis," Thelma says. "I have learned more about myself and how to keep my body and mind healthy."
Thelma admits it would be hard for her to choose which Oasis classes have been her favorites. She's taken more than 100, everything from line dancing to genealogy to African American short stories. 
"I have learned many new things by attending classes, but I think I have learned even more from other participants. We all come from different backgrounds, and it feels good to come together despite our differences. Everyone at Oasis is so friendly. The people I have met are so easy to talk to."
Volunteering has proven another sweet spot for Thelma, who has worn a number of helpful hats for Oasis—answering phones, making calls, data entry, attending health fairs and coordinating classes, to name a just a few. For her, giving her time is another way to connect to others and grow even more.
"Before I joined Oasis, I was more of a follower, but I have learned about how to lead," she says. "I want to learn even more about myself as a person."
Thelma gives regularly to Oasis through the Friends of Oasis annual giving campaign.
"I love it so much, and I want to help," she says. "I donate because I want other people to know about Oasis. I get so energized by Oasis and I see so many other people who are energized, too!"
There are a number of ways to give to Oasis. 
Thelma is featured in our 2016 Annual Report.