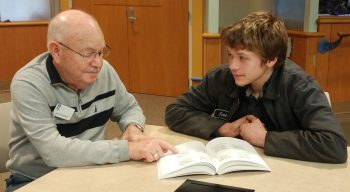 Everyone at Eagle Creek Elementary in Pike Township, Indiana, knew Scott Decker was a special kid.
The second grader was bright, inquisitive and a mechanical whiz who quickly became the school's Mr. Fix-It for broken pencil sharpeners and jammed film projectors.  But Scott was also impatient, easily frustrated and struggled to fit in socially. School administrators and teachers agreed that one-on-one time with the right adult would benefit Scott greatly. And they knew just the person for the task, Indianapolis Oasis tutor Jerry Swinehart.
Having raised a son himself and spent time as a Cub Scout leader and docent at the Indianapolis Children's Museum, Jerry is especially skilled at working with young boys. His quiet, nurturing manner and no-nonsense attitude were just what Scott needed.
The two quickly hit it off.  "Scotty and I are a lot alike," Jerry says. "We both have a lot of interests and we're very curious."  Jerry engaged Scott's mechanical mind with magnets, models and small projects to build or take apart. He used books about architecture to teach Scott different ways of learning.  And he taught Scott chess to help the boy tame his crippling frustration. "I never let him win," Jerry notes. "I showed him his mistakes and he learned to play better by losing."
With every project, Scott gained confidence and became more adept at working as a team. Jerry credits his partners at the school for creating an environment that allows all students to thrive. Like all Oasis tutors, Jerry combined what he learned through the program's specialized, ongoing training and his own instincts on what would engage the little boy. "The teachers gave us permission to use whatever we needed from tools to the computer lab," Jerry states. "For one hour each week, Scott received the undivided attention of a caring adult to explore whatever he was interested in."
Putting something good into the world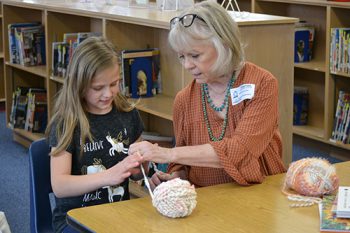 Kathleen Eicher, a volunteer tutor with San Antonio Oasis, took a similar approach with Hailey, a second-grader she tutored.
Kathleen quickly noticed that Hailey was very visual, responding to colors and pictures in the stories they read together.
She engaged her young friend with brightly illustrated books, including one called Extra Yarn about a little girl who knits sweaters for everyone and everything to brighten up her gloomy town. Kathleen even brought in some colorful yarn and taught Hailey to finger knit a scarf. Read more about their special bond.
"I love figuring out the mystery of these little people, what motivates them and what they need from me," Kathleen says. "It seems to me that whenever we have befriended a child, increased their enthusiasm for learning or boosted the kindness quotient, we have put something good into the world."
Teaching Life's Lessons
That's exactly how Scott, now a young man, feels about Jerry.
"My passions were different from everybody else, so it was really important to have someone to talk to who understood," Scott says. "Mr. Swinehart challenged me when regular school didn't."
Scott's mom, Peggy Decker, adds, "Jerry encouraged Scott and let him know that even though he was a kid, he had a lot to contribute and a lot to learn. That kept him motivated."
Those lessons continue to form the foundation of Scott's ongoing achievement.  He utilized his mechanical expertise to pursue studies in Heating and Air Conditioning (HVAC) at Pike High School before his 2017 graduation.  Last summer he proved his prowess by placing 4th in the nation for HVAC at the prestigious SkillsUSA competition, a rare achievement for a first-time competitor.
Today, he is a student at IVY Tech in the Paramedic and EMT program. And he continues to tinker.  Currently, Scott is working on a couple of inventions that will make chainsaws much safer.
Last fall, Oasis arranged for Jerry and Scott to meet and catch up. "It was great to see how far Scotty has come." Jerry says. "I've tutored 30 youngsters in my 16 years with Oasis. It's always special to see the impact that tutoring has had on their lives."
Young Is As Young Thinks
But the kids aren't the only winners in the tutoring relationship. "I'm 81 and if I only associated with people my age, I'd have an old person's outlook," Jerry notes. "Being around young people keeps my outlook and my attitude young."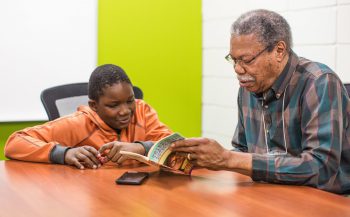 Gerald Johnson, a St. Louis Oasis tutor at McKelvey Elementary, echoes Jerry's sentiment. "I get energy from being around kids," Gerald explains. "I learn from them too, especially about technology and slang.  I don't think as old as I am."
Gerald is committed to recruiting more men of color to become tutors. "A lot of times students don't have someone to talk with about certain things," Gerald says. "They know they can ask me anything and I'll get them an answer. I become more than a reading tutor; I am also a mentor and a friend."
Excellence Yields Distinction for Oasis
The experiences of Jerry, Kathleen and Gerald are not unique. Across the nation 4,500 Oasis tutors in 20 cities improve the lives and learning of thousands of K-3 students each year. In the 2017 evaluation by partner schools, 100 percent of principals said Oasis tutors were a positive part of their school, while 96 percent of teachers reported improved confidence and self-confidence, and 93 percent saw improved academic performance.
It's statistics like these that helped earn Oasis the 2017 Program of Distinction designation from Generations United. "We are one of only 32 programs since 2009 to achieve this status," notes Jeanne Foster, Oasis national tutoring director.  "Oasis tutoring provides meaningful opportunities for both children and older adults while serving the entire community. Our volunteers are absolutely the best. This is an honor we should all be proud of."
In further support of our volunteers, Oasis is partnering with the Generation to Generation campaign sponsored by Encore.org. Over the next five years, the campaign seeks to mobilize one million older adults to commit to working with children. Jeanne added, "With a retention rate of 80 percent among our Oasis tutors, we are set to lead the way in this campaign."
Oasis Intergenerational Tutoring is made possible with support from a number of funders across the country. For a complete list of all Oasis partners and funders, click here.