Tuesdays are an important day for El Douglas. She has two little boys who are counting on her to give them some one-on-one time that's proving to be just what they need.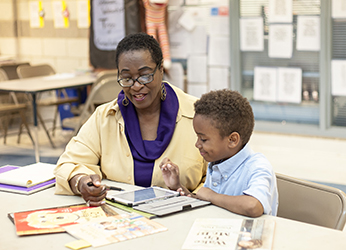 Photo by JBeauvais Photography
"It's so rewarding to know that you're invested in somebody," she says. "If we can encourage even one child, it has a domino effect."
El is especially committed to her own community of Ferguson, Missouri, where she concentrates some of her time and talents as an Oasis tutor at Johnson Wabash Elementary. This year, she's working with two third graders, and learning how to incorporate the iPad into some of her weekly sessions.
"I've been using the iPad to help students look up definitions to difficult words," she says. "It's a good tool, and the kids know how to use it."
El has been an Oasis tutor since 2008, and is glad she found a place to plug in.
"When I retired from a career as a social service administrator, I knew I'd do some kind of volunteering, but I wasn't sure just what that would be," she says. "After finding out about Oasis and going through the training, I still wasn't sure what to expect."
It didn't take long for El to identify a key piece of helping a student make progress.
"It's important to figure out their personalities," she says. "Building a rapport with a child helps me figure out the best ways to connect."
Working to develop personal relationships is a strategy that El finds useful in her other volunteer efforts as well, including her church and another organization, CASA (Court Appointed Special Advocates). She says that many of the children she represents as a CASA volunteer are especially in need of an adult who is willing to commit to providing long-term support. She says that building that trust can be a challenge, but one she's willing to take on if she can make an impact.
"I can't even imagine what parents must tell their children about how things are today," she says. "The world is out of order, and even little things, like representing children through CASA and tutoring with Oasis can help correct it."
This year, Oasis Intergenerational Tutoring celebrates a milestone: 25 years of serving the St. Louis community.
The Impact of Oasis Tutoring
Since 1989, Oasis Intergenerational Tutoring has reached over 400,000 children.
Today, 5,000 tutors work in 27 cities.
Oasis tutors help children in 792 schools in 95 school districts across the country

Download a summary of the program
El Douglas is featured in the 2014 Oasis Annual Report.