In these past few weeks, I have gone through an ego-bruising crash-course in job hunting 2014, and it has not been pretty.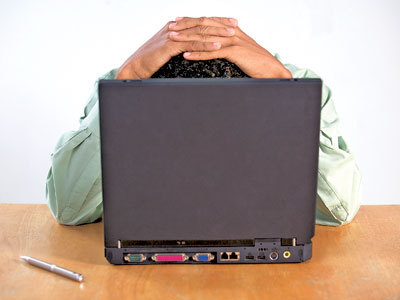 My biggest job hunt hurdle has been getting over how impersonal applying for a job has become. It has been virtually impossible to interact with another human being during the initial job inquiry stage. Before applying for a job—filling out an application and submitting my resume–I'd like the chance to at least speak with someone to get a vibe for the work culture and the position. You can learn a lot about an organization and the job in just a few minutes of carefully worded conversation.
In today's info-tech-centric culture the job-hunting process has morphed into an endless series of click, select, edit, scan, download, save and submit buttons.
First impressions are now qualified by first submissions (electronic/digital). Some companies expressly state, "resumes accepted online only, resumes submitted by mail will not be considered" or, "no telephone inquiries, please."
What about the chance to check out the company culture or work environment before you officially apply for a position? Strolling around a website does not give me the same work culture insight as actually physically walking around the building and engaging people in conversation. My "I'm lost…just trying to find the employment office" strategy doesn't work online. Many such conversations and strolls in the past have helped me decide on whether or not I would fit in with an organization's work culture.
I yearn for the days of expressing my enthusiasm through the tone of my voice and the spark of "I'm-the-one-you've-been-looking-for" in my eyes. Human interaction! I haven't figured out how to project these verbal and interpersonal communications skills (body language) with printed words and the Submit button. I need more time!
Click…
Over 50 – or any age – and job hunting? Some tips for the online search-and-apply:
Got a good resource for help with online applying? Tell us!