When he decided to volunteer as a tutor with the Oasis Intergenerational Tutoring program in 2013, Gerald Johnson knew that children would be getting a boost with their reading.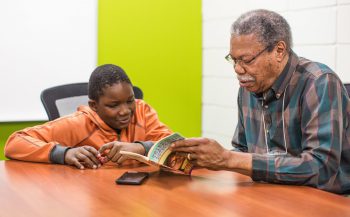 But he has discovered that so much more happens when a child and a caring adult spend some time together, one-on-one.
"I learn from kids, and I get energy from being around them," says Gerald. "As much as tutoring helps these kids with reading, it's not all about reading. The kids are inquisitive, and a lot of times they don't have someone they can talk to about certain things, so they ask me."
From recruited to recruiting
Gerald learned about the program from his wife, Geraldine, who has been tutoring for eight years.
 "She said to me a couple of times, 'this is something you ought to think about,' and so I did."  
Gerald now works on recruiting others into the program. In the mornings, he works as a courtesy driver for Dobbs Tire and Auto Centers.  As he was dropping off one of his customers recently, they passed McKelvey Elementary School, where Gerald volunteers. He talked about the tutoring program and now that person has become an Oasis tutor.
He is especially committed to recruiting more men into the tutoring program.
"Young boys and girls need to see more male figures that are caring and who are interested in their well-being."
Gerald worked with four young boys last year and has three new young friends this year. A seasoned tutor, he knows how special these relationships can be.
"I become more than a reading tutor – I am also their mentor and their friend."
A program of distinction
Gerald is one 4,500 volunteers nationwide working with the Oasis Intergenerational Tutoring program, which pairs children in grades K-3 who need support with older adults who have been trained to use a proven approach to literacy that emphasizes reading, talking and writing. The program is one of six intergenerational programs selected to receive the prestigious 2017 Generations United Programs of Distinction award.
"Achieving this recognition is a major accomplishment," says Donna Butts, executive director of Generations United. "It says a program employs best practices and effectively engages the young and old while serving the surrounding community."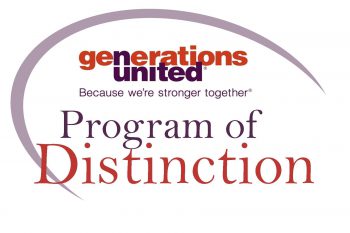 Generations United launched the Program of Distinction designation in 2010 to recognize excellence while celebrating the rich diversity among intergenerational programs. Since then, 32 such programs have been selected. Programs of Distinction are selected based on evidence-based standards for quality programming, such as preparing participants, staff training, partner engagement and evaluation.
This is the second Program of Distinction designation received by Oasis. CATCH Healthy Habits, an evidence-based Oasis intergenerational health program, was named a Program of Distinction in 2014.
To learn more about Oasis tutoring, visit www.oasistutoring.org.