The San Diego Union-Tribune Reports on how San Diego Oasis lifelong learning and exercise classes benefit the senior community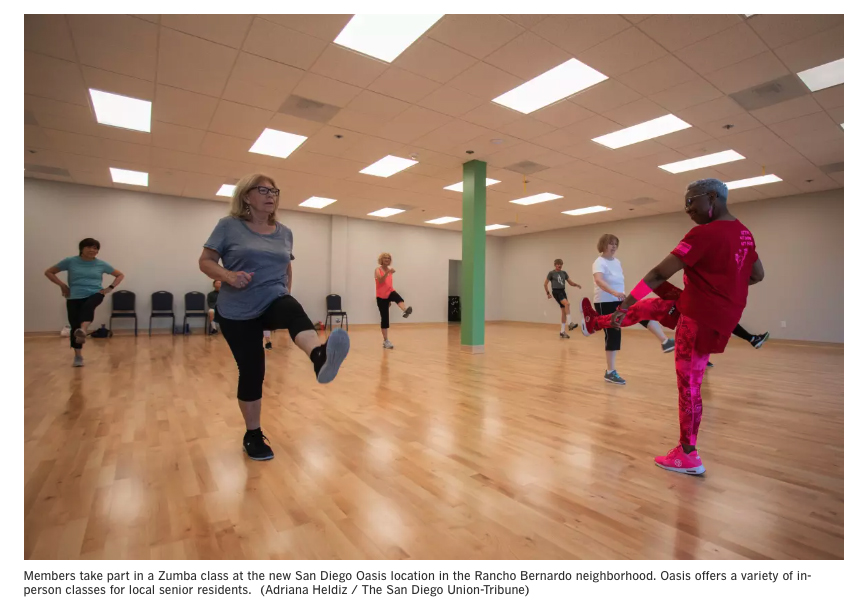 San Diego Oasis held a two-event, "Taste of Oasis" this week and hosted hundreds of seniors to sample mini-sessions of upcoming fall classes. The article quotes longtime Oasis participant and instructor, Saleemah Muhammad speaking about her Zumba Gold class. Muhammad shares how watching Zumba classes while living in Germany when her Husband was stationed there. When she returned the United States she began taking classes and she was so enlightened by how it positively impacted her health, she began teaching them for San Diego Oasis.
"The music was so infectious and so lively, and the people looked like they were having so much fun, so I said I'm going to try it," she said. "I came back, joined in the class and never looked back."
The article goes on to explain how Oasis programs benefit the older adult community "when it comes to improving their cognitive health and quality of life while aging."
Read the story in its entirety by clicking the button below.
Oasis has eight centers across the country and offers virtual classes through Zoom video on Oasis Everywhere available to anyone regardless of your geographical location. To find out if there is an Oasis location for in-person programs like San Diego Oasis, use the pull down tab "My Oasis Center" from the menu at the top of the page.